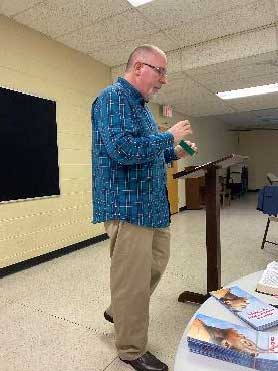 Steve had the opportunity to do a Wordless Book training at Clover Hill Baptist Church on June 26, 2022. There were 17 in attendance. The people were serious about sharing the gospel with children and even had some thought provoking questions at the end.
Steve had the opportunity to attend Clover Hill Baptist Church on June 26th for their morning worship service. Steve had the privilege of taking a few minutes during the service to share about CEF of VA – the Good News Club® program and also about the Wordless Book training he would have after the service. Steve also had the honor of thanking Clover Hill Baptist Church for their faithful monthly support of what he is doing with CEF of VA.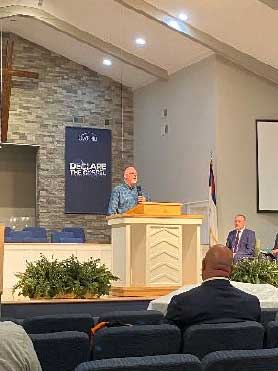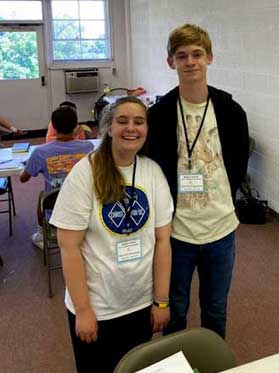 This is Mandy & Bradley. They are siblings representing the Greater Richmond Chapter this year at the annual training school. The school is held for teens from across the state to come together and be to lead 5-Day Clubs during the summer. Mandy & Bradly have now taken part in training school for 3 years and they are a blessing. They are faithful to God and are serious about preparing to reach children with the gospel at 5-Day Clubs (CYIA). Mandy & Bradly, thank you for your faithfulness!
Director's Corner
I just returned from Eagle Eyrie in Lynchburg VA taking part in the CEF of VA training school … This is my second training school with CEF of VA and this year I had the opportunity to teach 3 sessions. I had a great time and God really blessed my preparation time and teaching time.
The Greater Richmond Chapter is gearing up for the annual Kick-Off on Aug 27th. (See enclosed flyer). The entire local chapter is believing God for an increase in the number of Good News Clubs that will be taking place in the 2022-23 school year. The more clubs taking place, the more children are being reached with the gospel of Jesus Christ.
In closing, I just want to mention that God has really blessed me with opportunities to train children's workers and Sunday School teachers in how to properly share the message of salvation with a child using the wordless book. So far there have been 112 people trained.
The Greater Richmond Chapter wants to say a hearty "Thank You" to each of you for your part in CEF of VA – maybe a prayer partner, a financial giver or even a volunteer in a Good News Club®. What you do is valuable and essential, and we know that nothing is wasted with God. Thank you for loving the children of the Greater Richmond area.
For the children,
Steve Tavernier
Prayer and Praises
Praise for 112 people trained on how to share the Wordless Book with children.
Praise for the people who have interviewed for the Ministry Coordinator position since the last newsletter distribution
Praise for the teens that received training for 5-Day Clubs this summer.
Prayer for 5-Day Clubs taking place around Virginia
Prayer for the saved children to continue to grow in the Lord.
2021 WORLDWIDE MINISTRY STATISTICS
Despite COVID, look what God did in 2021 …
3,532 Workers in the harvest, 55,143 Good News Clubs held, 1,183,744 digital ministry connections made, 312,655 people trained, 15,628,921 children reached and
5,645,788 SALVATIONS – GLORY TO GOD!!!