[Y]ou have been born again, not of perishable seed but of imperishable, through the living and abiding word of God; for
"All flesh is like grass and all its glory like the flower of grass.
The grass withers, and the flower falls,
but the word of the Lord remains forever."
And this word is the good news that was preached to you.
(I Peter 1:22-25)
Dear CEF of Virginia Friends,
The Apostle Peter reminds us that our flesh is perishable; we only have a short time on this earth. But we have been given new life and are born again into the imperishable through the Word of God. This transformation is a work of God, and through the Great Commission He has commanded us to join Him in this work by sharing the Word of God with others. As good stewards who wish to share the love of God with the next generation while they are most open to receiving it, we must thus join Him in this transformational work with urgency. Further, we must work heartily while the sun is shining, because "[n]ight is coming when no one can work" (John 9:4).
His transforming work is propagated through our partnership with churches as we teach their Good News Club® teams to minister to children. It is also promoted through our hiring and training of new staff. It is further advanced through our education of teens on how to share the Gospel with 5-Day Club® children. Serving the Lord in this manner is a joy and we are in awe when we see these transformations take place. Through your support of, and engagement with, our ministry, you are a vital part of this transformational work.
CYIA Teens Spread Their Wings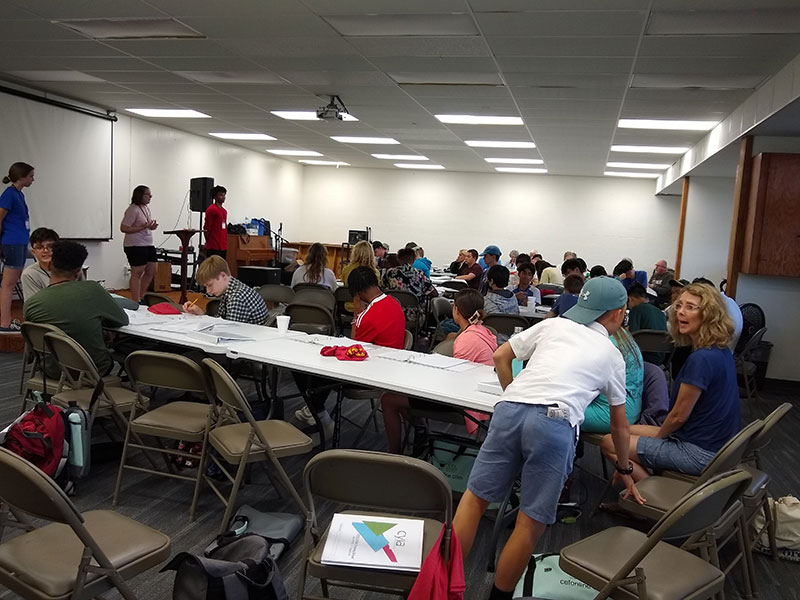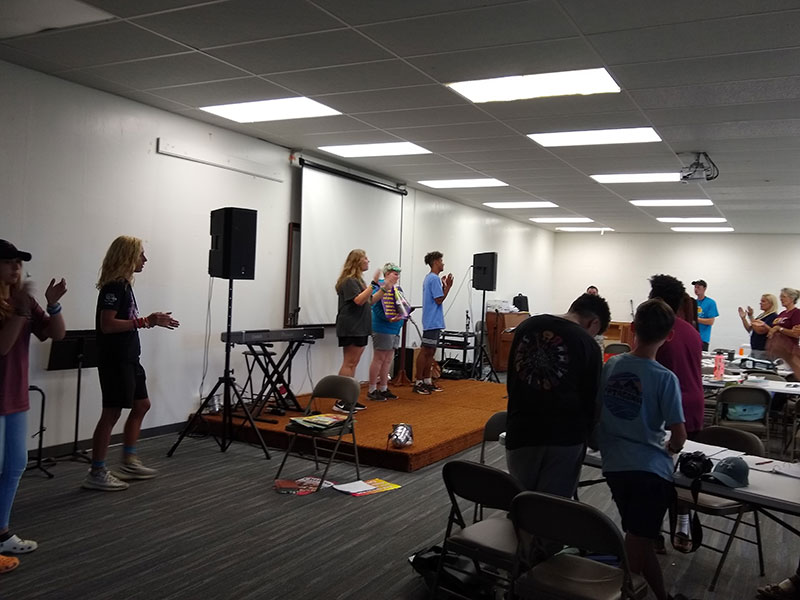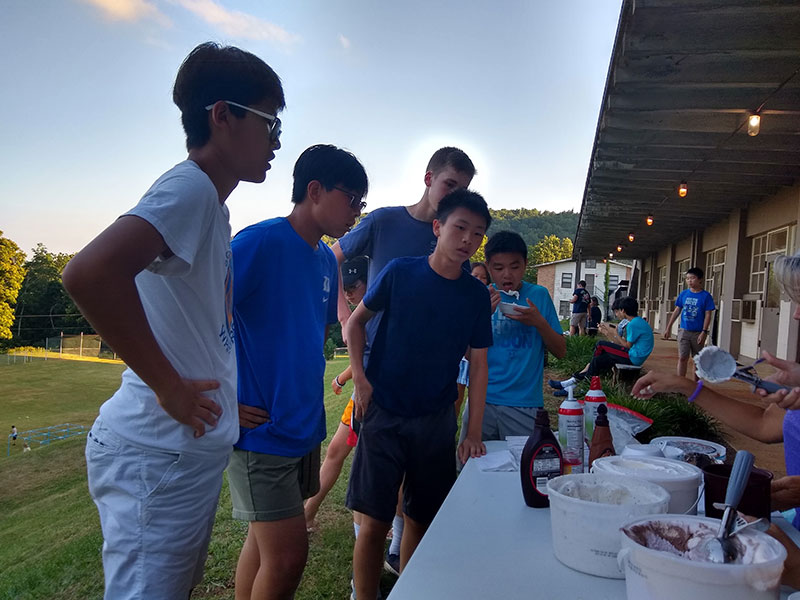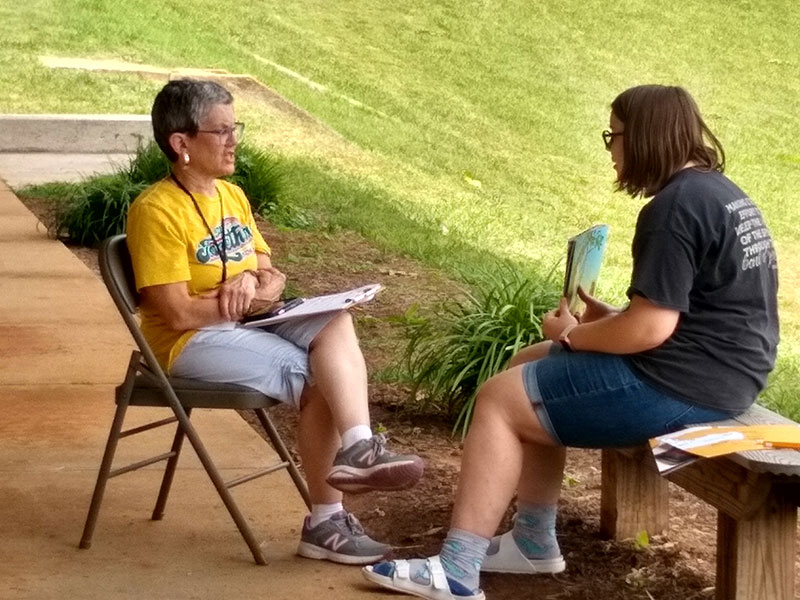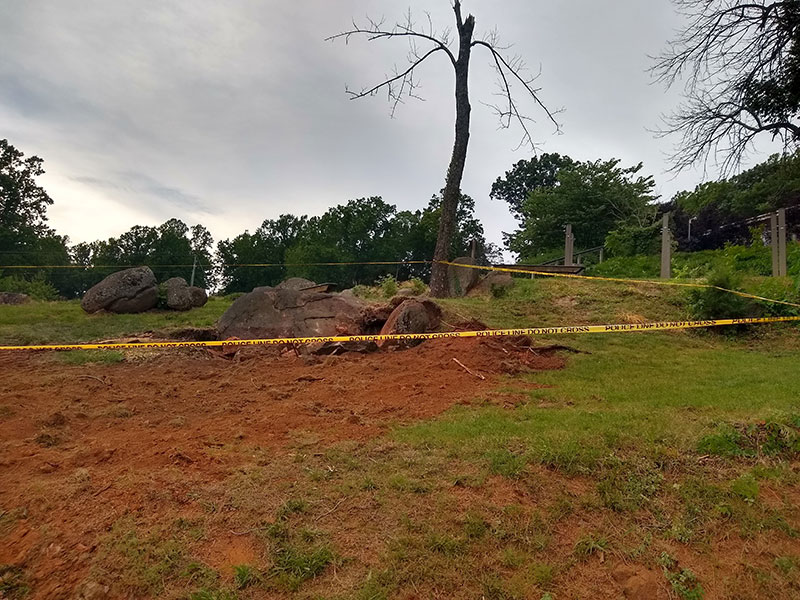 Teens from Lake of the Woods Church (Greater Richmond Chapter) demonstrate a 5-Day Club for the rest of the teens (top left). A Tidewater teen is evaluated on her Bible Lesson practicum (top right). A tornado toppled a tree but left buildings alone the week before we arrived (bottom left). Northern Virginia teens line up for ice cream after some recreation time (bottom right).
This summer, we were again privileged to watch the transformation of many teens during our Christian Youth in Action® training camp. Through the training that we offered, and our teens' cooperation with the Holy Spirit's work in them, they blossomed in their ability to share the Gospel message with children. During testimony time, it was so encouraging to hear them explain how the Lord gave them the ability to do more than they thought that they were capable of doing. The reports are now coming in from our chapters about our teens' experience as summer missionaries leading 5-Day Clubs. I look forward to sharing that information with you in my next newsletter.
Transition at the Top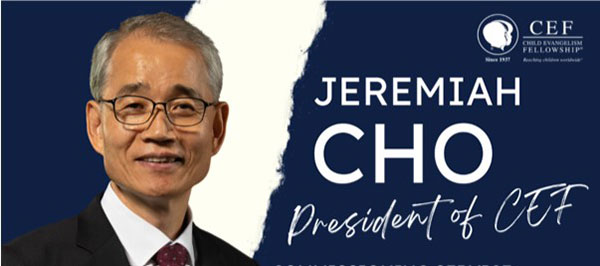 Welcoming More Harvest Laborers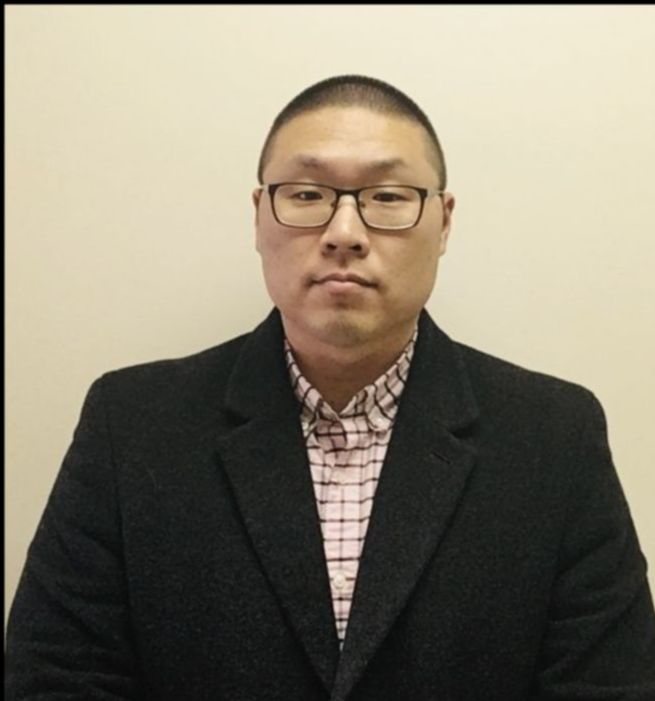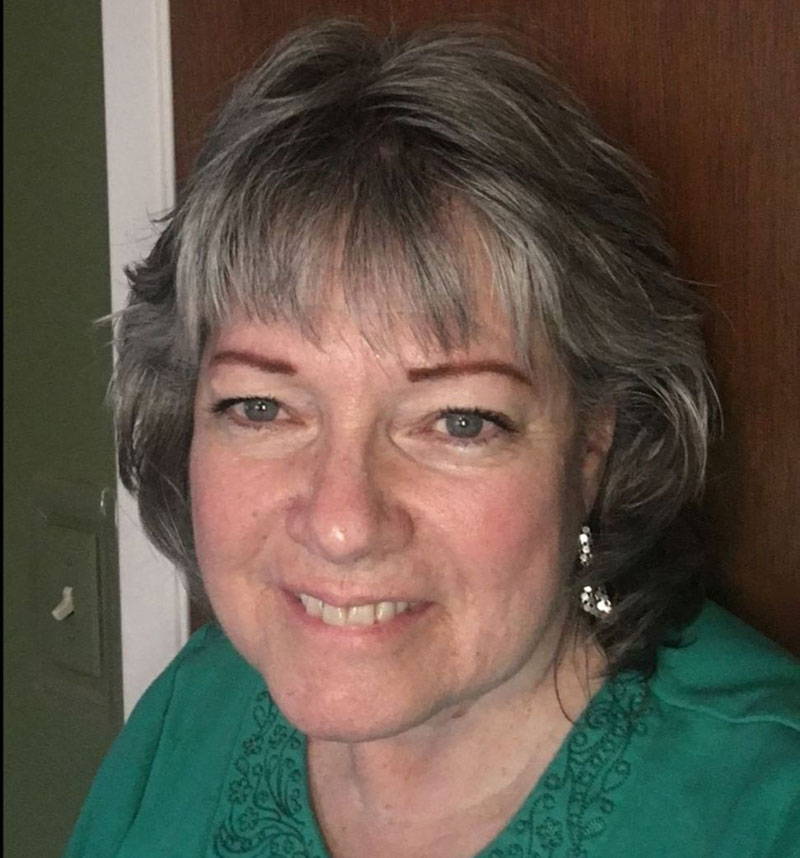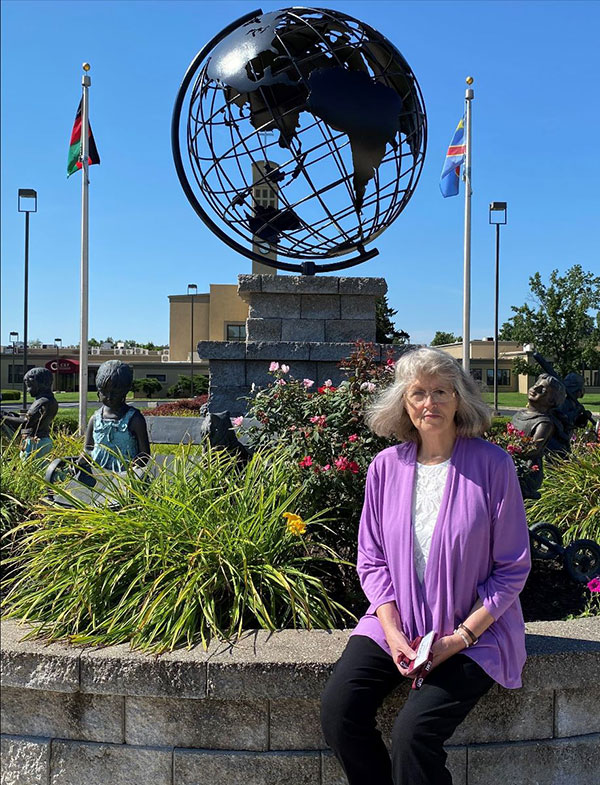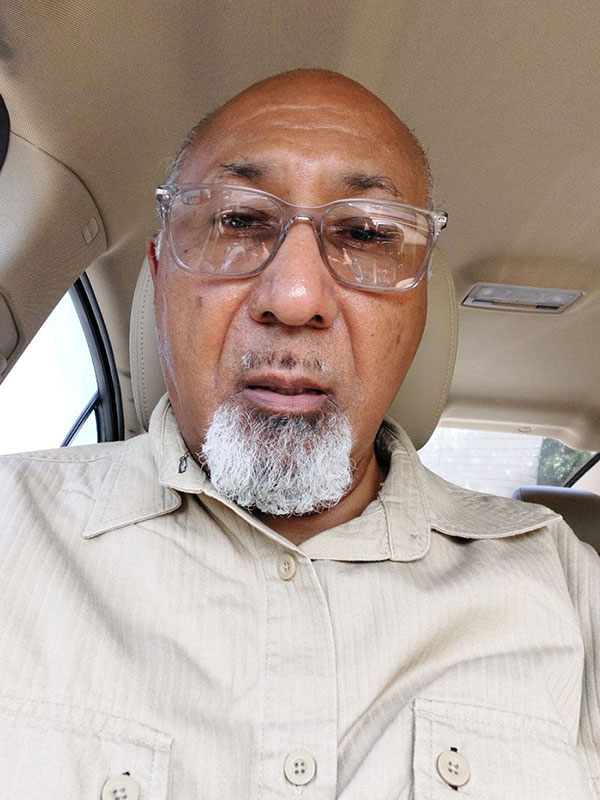 To increase our ability to disciple more teens in children's ministry, we created a new position and hired Andrew Son (top left) as Assistant State Coordinator. Andrew has a Master of Divinity degree, serves in the US Army Reserves, and has a background that includes discipling youth and college students in community outreach and missions. He will be overseeing CYIA, starting an internship/externship program, and starting CEF student organizations on college campuses.
To provide greater training support to our Good News Club teachers, we created another position and hired Barbara Wilson (top right) as State Director of Training. She hails from New Mexico, where she served on CEF of New Mexico's State Board and assisted in training. Barbara also has a master's degree, but hers is in Educational Leadership. Her background is in elementary education, and she served as an Assistant Principal and an Instructional Coordinator, which included helping teachers improve their skills. She will oversee Good News Club training for the state, and work with Judy Mooers, our Teacher Trainer, to offer Teaching Children Effectively courses.
Marilyn Fitch (bottom left) also joined us as the Roanoke Valley Chapter's next Local Director. Marilyn also has a background in elementary education, particularly working with special education students. Additionally, she was an executive director for a non-profit for many years. She is pictured at CEF's International Headquarters, where she recently started her training.
Additionally, Michael Felton (bottom right) joined us as a Ministry Coordinator for the Greater Richmond Chapter. Like Andrew, Michael has served in the US Army and has a Master of Divinity degree. Michael has also served as head pastor for two different churches and has earned three PhD degrees! He will be working with pastors not only to encourage churches to start a Good News Club, but he also will focus upon further developing the Chapter's CYIA ministry.
While we are excited about welcoming these new staff members, we recently said good-bye to some others. Chris Obe, the Peninsula Chapter's Local Coordinator, who believed the Lord was calling him to start a church in North Carolina; Steve Tavernier, the Greater Richmond's Local Coordinator, who decided to return to his home state of Illinois to be closer to family; and Wayne and Diane Rautio, who recently retired to the Pennsylvania area.
Increasing Awareness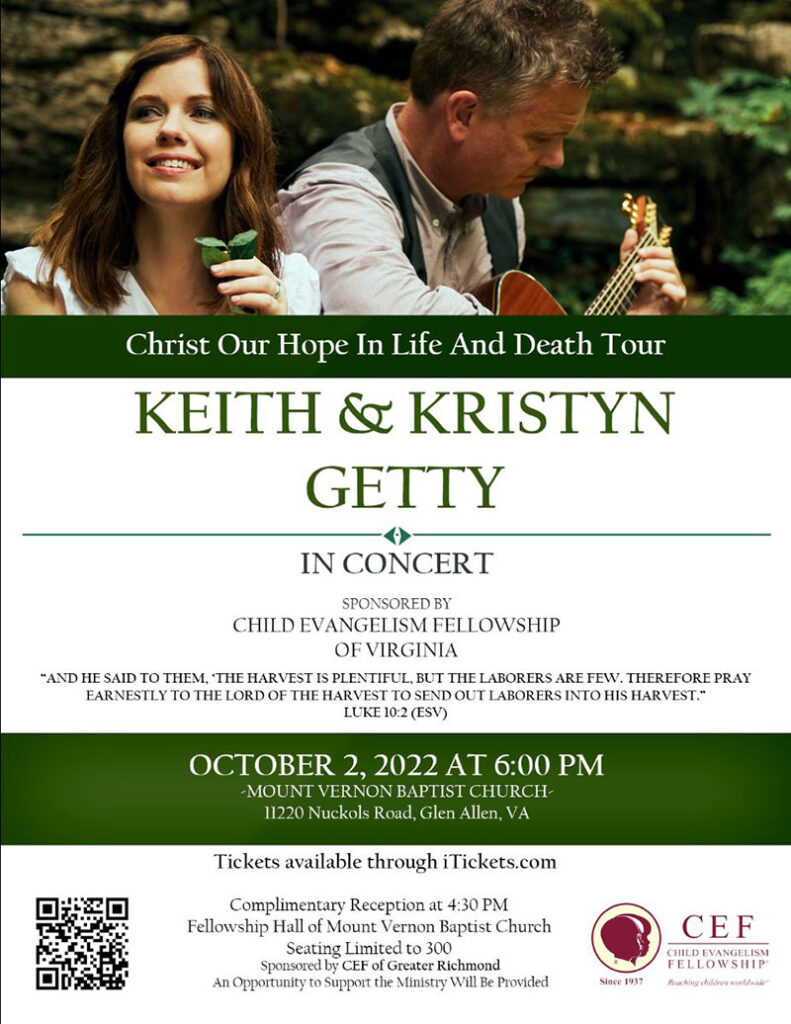 The Gettys will be helping to promote CEF ministry by joining us on their Christ Our Hope in Life And Death tour. The October 2nd date for this event coincides with CEF's Luke 10:2 Prayer Initiative for more laborers for the harvest field of young souls. The Gettys share our vision of reaching children with the Gospel. In fact, Kristyn Getty grew up going to a CEF Good News Club and her mother was a CEF volunteer in Northern Ireland.
Many concert tickets are still available at iTickets.com. Please also consider signing up for the complimentary reception sponsored by our Greater Richmond Chapter beforehand. Seating for the reception is on a first-come first-serve basis and limited to 300.
Praise and Prayer Requests
PRAISE
For a successful CYIA training camp producing faithful summer missionaries
Welcoming new harvest laborers, Andrew, Barbara, Marilyn & Michael
For state's first website: www.cefva.com.
PRAYER REQUESTS
For the Lord to call more Christians to serve on our State Board
For continued pioneering efforts in the Shenandoah Valley and Mountain Empire areas
For a sold-out Getty concert to make more Christians aware of CEF ministry and the need to reach children with the Gospel
Thank you for laboring with us as we grow and transform CEF of Virginia!
Rita
YOUR SUPPORT THROUGH AMAZON SMILE
Please remember that you're able to support CEF of Virginia when you place orders through Amazon Smile! Amazon Smile allows Amazon to make a donation to CEF of Virginia when you purchase merchandise through it. Just use the following link to log in: https://smile.amazon.com/ch/54-0722610.
Donations may be:
sent by check made out to CEF of Virginia and mailed to P.O. Box 27723, Richmond, VA 23261; or
by using a credit card through the PayPal "Donate" button below.
Child Evangelism Fellowship® will make every effort to honor the contribution designation of the donor, yet contributions must be under the direction and control of CEF®. CEF has the discretion to determine how best to use contributions to carry out its functions and purposes. Such control of the funds by CEF is necessary to ensure the donor's contributions satisfy requirements for tax-deductibility.
CEF of Virginia is a nonprofit organization exempt under § 501c(3) of the Internal Revenue Code. Contributions are deductible to the extent allowed by law.
A financial statement is available from the Commonwealth of Virginia's Department of Agriculture and Consumer Services upon request.